Senior Director and Head of APAC Region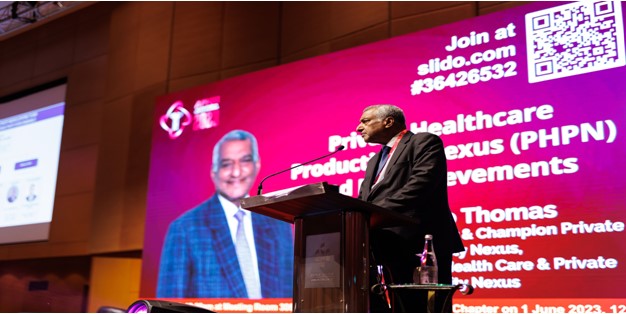 Dr. Jacob Thomas, a medical doctor has vast experience in hospital management., having served in various capacities at the Ramsay Sime Darby Health Care Group (RSDH).  He was the Executive Director of their Flagship Hospital, Subang Jaya Medical Centre (SJMC) for 9 years from 1998 till 2006.  Dr Jacob is currently the Group Medical Advisor at Ramsay Sime Darby Health Care which comprises of seven hospitals in Malaysia and Indonesia.  RSDH is a leading tertiary care medical group in the region, reputed for its quality medical care and service excellence. 
Dr Jacob Thomas was appointed as the Champion (Head) of the Private Healthcare Productivity Nexus under the Malaysia Productivity Corporation (M)PC), which seeks to improve productivity of the private healthcare sector in Malaysia.  This also includes the must-awaited enhanced Public Private Partnership (PPP).  He serves as a Councilor of the Malaysian Society for Quality in Health (MSQH), which is an accredited member of ISQua.  Dr Jacob had been a member of the Joint Commission International (JCI) Board from 2014 till 2022.  Since January 2021, he was appointed as the Chair of this prestigious Board which is based in Chicago USA till December 2022.  He has served, as the President of the Association of Private Hospitals of Malaysia (APHM) from 2008 – 2018.  He was also the Chairman of the Board of Directors at Ramsay Sime Darby Health Care since its formation in 2013 till August 2021.
Dr Jacob Thomas works closely with Malaysia Healthcare Travel Council (MHTC) and various Government agencies and NGOs to promote Malaysian Healthcare both locally and internationally
Dr Jacob Thomas was the recipient of the 2019 Lifetime Achievement Award for Healthcare by Global Health & Travel.  This prestigious award is a testament for his contribution to the development of healthcare regionally.
In May 2023, Dr Jacob Thomas has been recognized and awarded the Thomas Masterson Healthcare Pioneer of the Year in Asia-Pacific aims to recognize leading health experts which honoring the memory of Thomas Masterson (Co-Founder of Global-health Asia Pacific).  This prestigious award also acknowledges his pioneering spirit and substantial impact on the healthcare industry and medical tourism sector.